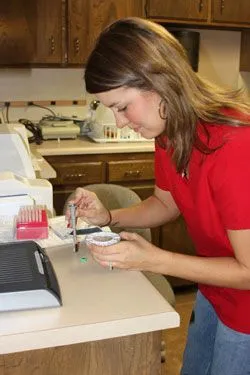 We are able to perform complete blood counts (evaluates types and numbers of blood cells to look for infection, anemia, etc) and chemical profiles (evaluates electrolytes, liver and kidney function, etc) in our own facility. We are also able to test for passive immunity in foals and fecal parasite evaluation. Results are available in a matter of minutes. For most other tests samples are sent to nearby TVMDL and results are available within a few days.
Examples include the following:
Coggins testing for Equine Infectious Anemia
Piroplasmosis
EPM
West Nile Virus
Equine Herpes Virus
Cultures

The samples needed and time required for us to get results back varies by test, so please allow plenty of time if testing is required prior to movement.