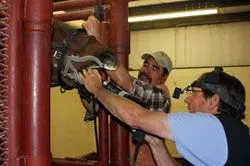 Vaccinations & Deworming
We recommend regular vaccinations and deworming to prevent many problems that may occur with horses. Our recommendations often differ based on what each horse may be used for or exposed to. Please visit with one of our veterinarians to discuss what is best for your situation.
Dental Care
Dental care – The floating of teeth and thorough dental examinations are recommended yearly for most horses. The field of Equine Dentistry is rapidly evolving, and the doctors at HCVH are committed to the ethical, professional, and diligent practice of this all-important aspect of your horse's health. We have a vast array of power and hand instruments that enable us to diagnose and treat most routine or abnormal dental conditions.
Coggins Testing
Coggins testing is required by law for all horses that may be travelling in or out-of state. Health Certificates may also be required. Contact us for more information.